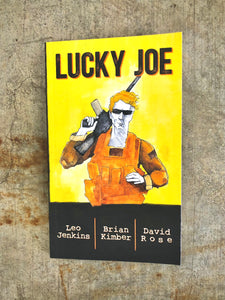 DRC presents its first work of fiction. From the collaborative effort of:
Leo Jenkins, Brian Kimber, and David Rose
---
Whether in a baror a day-old fighting position, the Global War on Terror forced its fighters to examine life and luck- some just more than others. There were the guys you hated and the guys you loved. Then, there was Joe Watts- the bastard and the hero. The wild, foul-mouthed Joe Watts lurks at the center of this intricate novella. He is nothing less than a mythic figure in the memories of his former warriors: Preston, Perchigh, and Ruiz. Reunited at Watt's funeral, they recount how a man probably better off dead once brightened their lives.
In possession of a mysterious letter, they learn Watts has tricks up his sleeve from beyond the grave.
---
Lucky Joe has the grit of a war memoir and the black humor that only those who have fought can deliver. Jenkins, Kimber, and Rose prove themselves careful observers of war, those who fight it, and the intricacies of the human condition.