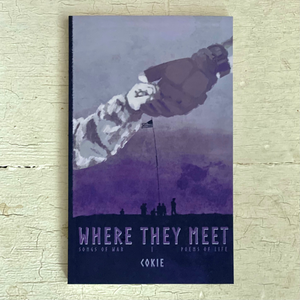 Where They Meet is the debut poetry collection by Cokie.
---------------------------------------------
War.
Life.
These two terms seem to have contrasting meanings. "Where They Meet" is an analysis of their intersection using poetic verse. Through rhyme, meter, and often humor, Cokie takes the reader through his experiences in both worlds. From the unpopular notion of fun in combat to the questions of God's presence in war, to the overwhelming joys of being a husband and father, these poems are meant to illuminate simple truths to both veterans and civilians.  
---------------------------------------------
BOOK
5x8 Paperback

112 Pages / 89 Poems

Printed in the United States